Salem, Va. – July 10, 2018 – Missile Jigs is releasing the Ike's Micro Jig at ICAST 2018. The Micro Jig is going to start a new category of super compact micro jigs and new way to finesse fish. Built on a #1 Gamakatsu light wire jig hook, the Micro Jig will come in 3 sizes - 1/16, 1/8, and 3/16 ounce. Mike Iaconelli is one of the best finesse anglers on tour and he was instrumental in having the jig built to his specs. Ike's Micro Jig has already caught quality fish in all three major bass species while testing.
John Crews, Missile Jigs owner and pro angler, said, "This is one amazing jig! The Micro Jig is one of the best finesse baits I have ever fished. It comes through cover crazy good and I am not sure you can get it around a bass without them eating it. It is silly. Anglers are going to love this one, especially finesse anglers."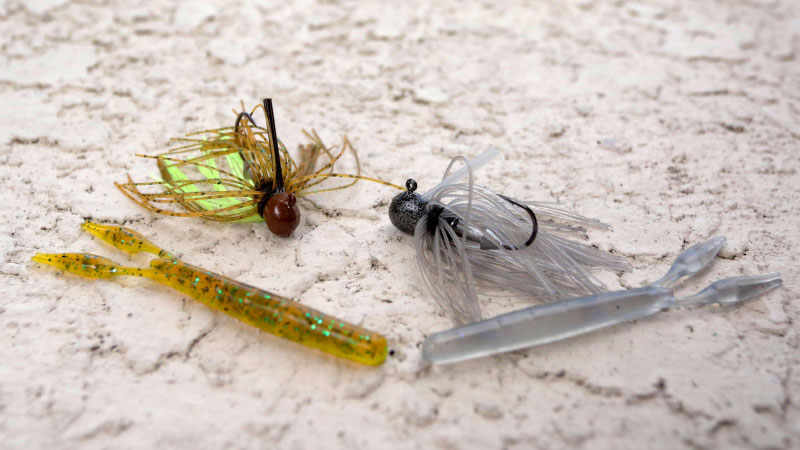 Ike's Micro Jig is a new category of tiny jigs designed specifically for bass. In addition to the Gamakatsu hook, the skirt is a custom fine cut version that fits the super compact jig frame. The Micro Jig will be offered in 6 colors in each of the 1/16, 1/8, and 3/16 ounce sizes. The colors will be Green Pumpkin, Straight Black, Sunfish IPA, Dill Pickle, PB&J, and Softshell. The Micro Jig is best fished on a spinning rod with 8 or 10 pound test line. There will be two jigs in each package for a suggested retail of $5.99. Included in the package will be two weed guards that can be easily installed with a drop of super glue for fishing around and through cover or left out for sparse cover applications.
Pro angler and Micro Jig creator, Mike Iaconelli, states, "The new Ike's Micro Jig gives you a TON of fish catching power in a small package. It is great for clear water, cold water, river fishing, and heavily pressured fish. When I'm trying to match the hatch with small crayfish or bugs on the bottom, this is a prefect choice. The Micro Jig also doubles as a great Ned rig head or jig head for your favorite small soft plastic. Tie one on and you will see that the Micro Jig will change the way you think about jigs and finesse fishing."
Missile Baits is releasing matching colors of the Drop Craw in order to match up with all 6 of the Micro Jig colors. The Drop Craw fits perfectly on the Micro Jig. Fisholicious is a perfect match for the Softshell colored jig. The other 5 colors share the same name. The new colors in the Drop Craw are currently available. Production is beginning on Ike's Micro Jig now and orders will begin to ship later this fall.
Missile Baits
MISSILE BAITS is a small company dedicated to creating SERIOUS soft plastic baits to help anglers catch more fish. The designs are straight off the top-level professional bass tour. Based in Salem, Virginia, MISSILE BAITS works relentlessly to make the best baits, show their customers how to use them, and stay on the cutting edge of bass fishing. Founded in January 2012, new products and videos will continue to be launched. Log onto MISSILEBAITS.com for videos, tips, forums, and more.
For information:
MISSILEBAITS.com
Contact: John Crews at MISSILE BAITS PO Box 1045
Salem, VA 24153 Phone: (855) HOOKSET (855-466-5738)