Pittsgrove, NJ, January 3, 2019. Professional Edge Fishing, Inc., a brand and angler representation company, has announced the sponsorship of Major League Fishing Pro angler Mike Iaconelli by Wyld Gear, makers of the ingenious divided series hard cooler, soft coolers and drinkware. Wyld Gear is also a proud supporter of The Ike Foundation®, Iaconelli's non-profit organization whose goal is to introduce urban children to the wholesome sport of fishing while instilling a love and respect for the outdoors.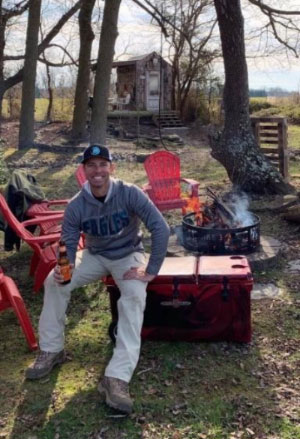 Iaconelli, excited about the new partnership, says, "Wyld Gear has definitely designed the perfect cooler with their insulated Hard Cooler Divided Series! Two chambers means I can keep my drinks cold and my food dry OR even use one side as a livewell since there's an aerator built in…how awesome is that?! It's even got heavy duty steel wheels, a mounted bottle opener and a spout." The high energy angler adds, "I'm also impressed with their lightweight soft side cooler and the tumblers are amazing!" Wyld Gear is also a proud supporter of The Ike Foundation®, "I love that we've got the support of Wyld Gear and that they share our vision when it comes to getting kids in the outdoors."
Wyld Gear is two years young with revolutionary storage ideas. The Divided Series Cooler and Wyld Cup were inspired through conversations with local fisherman and fishing guides. Those talks revealed that there was an unfulfilled need in the cooler and tumbler market. After lots of research, they got to work on the manufacturing and distribution process and the result is a fully functional 2 in 1 cooler on wheels and a double wall, stainless steel party cup, both products are unique to their categories in the cooler and tumbler markets. Mike Stillwell of Wyld Gear says, "The entire crew at Wyld Gear is extremely excited about our new partnership with Ike! Being heavily involved in tournament fishing myself and knowing Ike's status in the professional fishing industry, he was the obvious 'Wyld man' I wanted to reach out to. His over the top passion for fishing and getting kids involved early makes people gravitate to him. Ike does great things with The Ike Foundation® and really gives back to the community. Wyld Gear believes in their vision and we are honored to be a partner with Mike Iaconelli and supporters of The Ike Foundation®."
ABOUT MIKE IACONELLI:
Now with Major League Fishing, Mike Iaconelli holds the longest active streak as a Bassmaster Classic qualifier of 20 years. He's also the only angler to have won all three of Bassmaster's most prestigious titles: Bassmaster Classic, Bassmaster Angler of the Year, and B.A.S.S. Nation Championship. Iaconelli is the host of the 'Going Ike' and 'Ike LIVE' show. Wyld Gear joins Iaconelli's group of sponsors that include: Toyota, BassCat, Abu Garcia, Berkley, Flambeau, Tackle Warehouse, Hobie, Yamaha, RAM Mounts, NINES and Renegade, Lowrance, Power-Pole, Missile Jigs and Rapala/VMC. Mike Iaconelli
Visit
Mike Iaconelli's website
, or follow him on
Facebook
,
Twitter
&
Instagram
.
ABOUT WYLD GEAR:
Wyld Gear are makers of rugged and boldly designed hard and soft coolers, drink wear and outdoor gear. Their innovative Divided Series Cooler has two patented divided chambers to separate hot and cold items (or beverages and bait) and heavy-duty steel wheels for when you're on the move. Wyld Gear
Visit
Wyld Gear's website
, or follow them on
Facebook
,
Twitter
&
Instagram
.
ABOUT PROFESSIONAL EDGE FISHING:
Professional Edge Fishing, Inc. is a New Jersey based, full-service angler management, representation, and marketing company specializing in the outdoor sportfishing market. Professional Edge Fishing represents several of the top professional anglers in the fishing world, which include Michael Iaconelli, John Crews, Ish Monroe, Cliff Crochet, Garrett Paquette and Hunter Freeman. Professional Edge Fishing also works with many product manufacturers by developing custom marketing campaigns designed to connect these companies directly with millions of grass roots fishing enthusiasts around the globe.
For more information, visit
Professional Edge Fishing
, contact Becky Iaconelli at (571) 215-4366, or
complete the Professional Edge Fishing contact form
.
Follow Professional Edge Fishing on Facebook