Pittsgrove, NJ, February 11 , 2019. Professional Edge Fishing, Inc., a brand and angler representation company, has announced the sponsorship of the Ike LIVE Show, a bass fishing web and podcast, by Dr. Squatch, makers of all-natural men's soap and grooming products.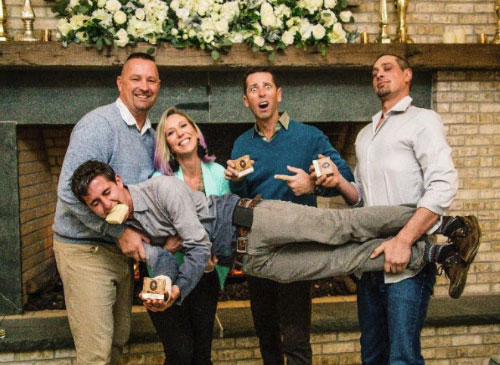 When Jack Haldrup, Founder and CEO of Dr. Squatch Soap Co realized there were no companies making all-natural soap products for men, he did what so many successful entrepreneurs have done; he took to his garage to make his own. His mission remains as it did then, "To Raise the Bar for the men's grooming industry and change the way men approach their hygiene by providing healthy, all-natural products that allow you to feel like a man and smell like a champion." -Haldrup, Jack. "About Us." Dr. Squatch Soap Co., 2019.
Joining "Squatch Nation" is the entire podcast gang at Ike LIVE including Mike and Becky Iaconelli, Pete Gluszek, Brian Stockl, Dave Borodziuk and Eric Guarino. This motley crew of accomplished anglers would certainly test even the strongest, chemical laden soap. Not shy about sharing their thoughts, they say, "Awesome smelling, all-natural soap is a great option for us. We work hard, play harder and fish a ton. Nothing beats hopping into a hot shower and coming out smelling great!"
There are nine unique scents in the Dr. Squatch soap line that include Pine Tar, Cedar Citrus and Nautical Sage, that produce a thick foamy lather, eliminate strong odors and clean even the smelliest fisherman and his fish story-telling buddies. All the soaps are made with the traditional cold process so that they retain the glycerin and nutrients in each bar with no harsh preservatives added. All Dr. Squatch Soap Co. products are proudly made and packaged with recycled materials in the USA.
Dr. Squatch's Jack Haldrup says, "We are thrilled to partner with a podcast that really understands that men need to smell good too…especially those Ike LIVE guys, fisherman stink!" On a more serious note, "partnering with Ike LIVE just made sense, they are men who get dirty and stay clean."
--End—
ABOUT DR. SQUATCH SOAP CO.:
In addition to their full line of bar soap, Dr. Squatch provides other all-natural male grooming products including hair care, cologne, beard oil, shave kits, giftboxes, apparel and gear. Monthly 'Soapscriptions' are available and include 1, 2, or 3 bar options. All products can be ordered online at Dr. Squatch Soap Co.
Follow Dr. Squatch on
Facebook
,
Twitter
&
Instagram
.
ABOUT IKE LIVE:
Ike Live is a bass fishing podcast, which also streams live video when recording. The first podcast episode was recorded in 2014. Since that time, the show has welcomed fishing guests, like Kevin VanDam and Gerald Swindle, but also other athletes and outdoorsmen, like Trent Cole, Brian Robison and Bryan Bickell. The show is hosted by Mike "Ike" Iaconelli, a BASS, MLF and FLW tournament bass fishing champion, television host and ambassador of The Ike Foundation®, a charity focused on getting kids involved in fishing and in the outdoors. Ike LIVE Shows are recorded about once per month, as Ike's tournament schedule allows. You can learn more about Ike LIVE and see past episodes at Ike LIVE. Sponsorship opportunities with Ike LIVE should be directed to Charles Daugherty, Director of Business Development at 908-300-2458.
Follow Ike Live on
Facebook
,
Twitter
&
Instagram
.
ABOUT PROFESSIONAL EDGE FISHING:
Professional Edge Fishing, Inc. is a New Jersey based, full-service angler management, representation, and marketing company specializing in the outdoor sportfishing market. Professional Edge Fishing represents several of the top professional anglers in the fishing world, which include Michael Iaconelli, John Crews, Ish Monroe, Cliff Crochet, Hunter Freeman and Garrett Paquette. They also represent Ike LIVE, a bass fishing web and podcast that includes interviews with professionals from all industries.
For more information, visit
Professional Edge Fishing
, contact Becky Iaconelli at (571) 215-4366, or
complete the Professional Edge Fishing contact form
.
Follow Professional Edge Fishing on Facebook
.