Pittsgrove NJ, January 21, 2019. Professional Edge Fishing, Inc., a brand and angler representation company, announces new sponsorships for MLF Bass Pro Tour Angler Ish Monroe, 2019 Bassmaster Elite Series Angler and Bassmaster Classic Qualifier, Garrett Paquette and FLW Tour Pro, Hunter Freeman.
Ish Monroe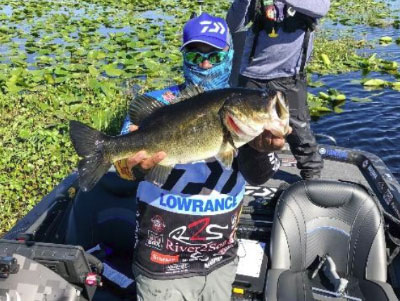 Ish Monroe, who won the MLF Elimination round in the inaugural MLF Bass Pro Tour at Lake Toho in Osceola County, FL, has been sponsored by Go RVing, a non-profit organization whose mission is to encourage people to discover the adventures found when RVing. Go RVing maintains a website that describes styles of recreational vehicles, where to buy or rent them and then suggestions on where to go and what to do when you get there. For Monroe, those answers are simple, his RV is his home away from home on the MLF tournament trail.
Visit Ish Monroe's Website
and Follow Ish on
Facebook
,
Instagram
&
Twitter
Courtney Bias of Go RVing explains, "RVs and the outdoor lifestyle go hand in hand and Go RVing is looking forward to sharing Ish's passion for both. Our partnership will help a broad audience find an RV that fits every outdoor pursuit whether on the water, the slopes or any stop in between." Visit Go Rving
Hunter Freeman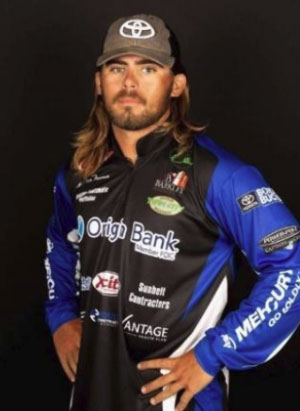 Professional Edge Fishing is also proud to announce the sponsorship of Hunter Freeman, 2018 FLW College Fishing National Champion and 2019 FLW Tour Pro, by Salmo Performance Fishing Lures. Salmo, now in its 27th year, produces award-winning crankbaits at their facility in northern Poland. Each lure is hand-crafted by a team of artisans, many of whom have been with the company for over 20 years. Every lure is individually tank tested and tuned by hand to ensure they meet the highest standard of performance.
"We are really excited to be partnering with yet another promising young angler rising in the ranks of the FLW" says Greg DeVries, Director of Sales and Marketing for Salmo North America. "Hunter's passion for fishing and amazing work ethic aligns well with Salmo's approach to everything we do. We are really looking forward to being an integral part of Hunter's arsenal as he works towards achieving his goals." Hunter is the 2018 FLW College National Champion and is now competing in the big leagues on the FLW Tour. He has enjoyed excellent success and is looking to make another run at the Forest Wood Cup.
Follow
Hunter Freeman on Facebook
or follow
Hunter Freeman on Instagram
Garrett Paquette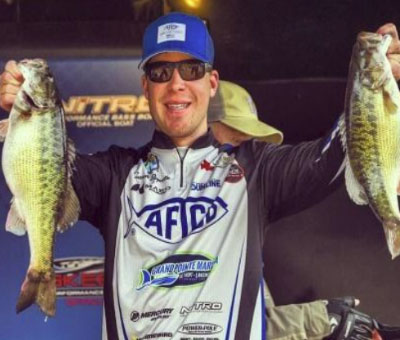 Big Bite Baits, AFTCO and Sunline, all represented by Outdoor Brands Team, have jumped on board to sponsor Bassmaster Elite Series Angler, Garrett Paquette. Mike Valster, President of Outdoor Brand Team explains, "As a young angler, I felt Garrett had tested himself well on the water in a short period of time across the country, while also representing himself in a professional manner. He was on our field staff in 2018 and growing with him onto the Elite Series in 2019 was an easy choice. I continually look for new anglers to work with our brands and join our top performing pro staff. I feel Garrett will be a great fit for our brands in 2019."
You can learn more about Garrett Paquette at
Garrett Paquette Fishing
and follow
Garrett Paquette on Facebook
or follow
Garrett Paquette on Instagram
AFTCO is a 3rd generation family owned and operated company. Many bass fisherman have recently been introduced to the American Fishing Tackle Company through their performance and quick dry fishing shirts. AFTCO is passionate about conservation and donates 10% of their annual profits to conservation initiatives.
Big Bite Baits is also a family owned US based company and specializes in soft plastic lures and related jigheads proven to catch any fish species.
Sunline is a Japanese fishing line manufacturer established in 1977. The company produces every conceivable type of fishing line for every type of target and method. Materials include nylon, fluorocarbon, ultra-high molecular weight polyethylene, polyester (polyethylene terephthalate), and metal. Sunline maintains top share in the Japanese fishing line market and exports its lines to more than 40 countries worldwide.
Sponsorship opportunities should be directed to Charles Daugherty, Director of Business Development, at or 908-300-2458.
ABOUT PROFESSIONAL EDGE FISHING:
Professional Edge Fishing, Inc. is a New Jersey based, full-service angler management, representation, and marketing company specializing in the outdoor sportfishing market. Professional Edge Fishing represents several of the top professional anglers in the fishing world, which include Michael Iaconelli, John Crews, Ish Monroe, Cliff Crochet, Garrett Paquette and Hunter Freeman. Professional Edge Fishing also works with many product manufacturers by developing custom marketing campaigns designed to connect these companies directly with millions of grass roots fishing enthusiasts around the globe.
For more information, visit
Professional Edge Fishing
, contact Becky Iaconelli at (571) 215-4366.
Follow Professional Edge Fishing on Facebook
,
Instagram
&
Twitter