Pittsgrove, NJ, June 13, 2019 Professional Edge Fishing, Inc., an angler representation and marketing company, announces the addition of Zack Birge, Major League Fishing and Bass Pro Tour angler, and Stray Casts podcast to their team. Birge and the Stray Casts crew add to a diverse group of fishing industry and bass fishing pros, that includes MLF Bass Tour Pros Mike Iaconelli, Ish Monroe and Cliff Crochet; Bassmaster Elite Series Anglers, John Crews, Garrett Paquette and Carl Jocumsen, FLW Tour Pro Hunter Freeman and professional videographer, Robert Field.
Zack Birge is a 27-year-old MLF and Bass Pro Tour angler from Arkansas, now living in Oklahoma. Zack's early career accomplishments include being the 2012 Carhart Bassmaster Collegiate Champion, the 2014 Rayovoac FLW Champion, 2015 FLW Rookie of the Year and the 2019 FLW Costa Grand Lake Champion. Most recently, Birge became the first competitor in Bass MLF Bass Pro Tour history to break the 100-pound mark in Elimination Round competition, connecting with 28 Tennessee River largemouth for 54-2 on the day, building his two-day Shotgun/Elimination total to a record 105-6.
In addition to being a champion bass angler, Birge is an avid waterfowl and turkey hunter and hosts a YouTube Series, 'Fowl Militia Films', that chronicles his adventures across the country.
Learn more about Zack Brige a
ZackBirgeFishing.com
and follow him on
Facebook
, on
Instagram
and on
Twitter
.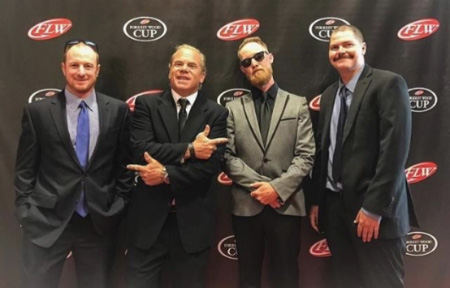 Pat Renwick is the host of the 'unconventional' Bass Fishing Talk Show, Stray Casts Outdoor Cartoon Network. This podcast is quickly gaining popularity in the professional sport fishing world. Stray Casts interviews recent tournament winning anglers from BASS, MLF and FLW, with a mix of comedy, music and hard-hitting questions while celebrating the passion of bass fishing. They host 36 shows per year and broadcast live from the Bassmaster Classic, the Forest Wood Cup and the Red Crest Cup.
Follow Renwick and the Stray Casts crew on
Facebook
and on
Instagram
. Sponsorship opportunities with
Professional Edge Fishing, Inc.
anglers and companies should be directed to Charles Daugherty, Director of Business Development, at at
or 908-300-2458.