Pittsgrove, NJ, March 26, 2020 Professional Edge Fishing, Inc., an angler representation and marketing company, announces the addition of Kristine Fischer, a kayak angler on the Hobie Bass Open Series and Kayak Bass Fishing (KBF) tournament trails. Kristine joins a diverse group of bass fishing icons and fishing industry professionals that includes MLF Bass Tour Pros Mike Iaconelli, Ish Monroe and Zack Birge; Bassmaster Elite Series Anglers, John Crews, Garrett Paquette and Carl Jocumsen, FLW Tour Pro Hunter Freeman and professional videographer, Robert Field. Professional Edge Fishing Inc. also works with the Stray Casts and Ike LIVE podcast teams.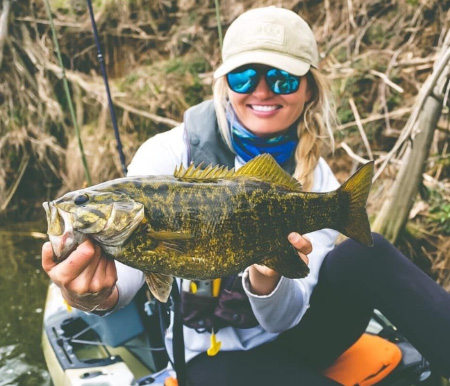 Kristine Fischer is a midwestern girl who now makes her home on the road. She is a national kayak competitor and recently qualified for the Hobie Worlds to be held in Amal, Sweden in August. Fischer was the 2019 Champion on the Hobie Bass Open on Kentucky Lake as well as the 2019 1st place winner of the KBF on Chickamauga and at the Southeast Regional Champion at Pickwick. "I love fishing because I'm intellectually stimulated by a challenge. Fishing allows me the opportunity to focus all my efforts on one thing-solving the puzzle.", she says. In addition to her kayak fishing accolades, Kristine Fischer is a freelance writer, outdoor content creator and co-founder of WWFF, a nonprofit dedicated to teaching women how to kayak fish.
Follow Kristine Fischer on Youtube, Facebook @kfischer11 & Instagram @midwestfishergal
For more information, visit Professional Edge Fishing, contact Charles Daugherty at charles@professionaledgefishing.com. You can also follow Professional Edge Fishing on Facebook.