The Ike Foundation® Announces 2020 College Scholarship Winners & Upcoming Events
May 18th, 2020, Pittsgrove, NJ. Mike and Becky Iaconelli, co-founders of The Ike Foundation®, announce the recipients of the fourth annual Ike Foundation® College Scholarship Awards.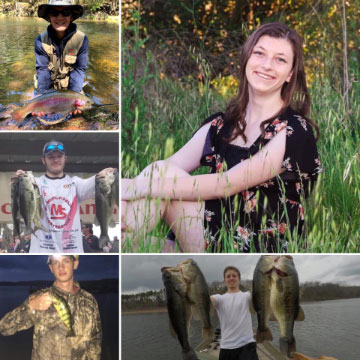 2020 brought in the largest scholarship applicant pool to date. Over 80 high school seniors from across the country with an earned GPA of at least 3.0 and a proven contribution to outdoor conservation submitted applications. Students were required to submit letters of recommendation along with their transcript and an essay that answered the following question:
'Most foundations are started because of a personal connection. What life events relating to the outdoors have taken place for you to want to share your experience to help others? How would you create a foundation based on your own life experiences relating to the outdoors and what would your mission statement be?'
The Ike Foundation® trustees conducted a blind review of all applications and essays and scored submissions based on a pre-defined point system. Winners of The Ike Foundation® College Scholarships are:
Samuel Ethan Collins of Zavalla, TX
Alyssa Neumann of Newbury Park, CA
Ryan Franks of Ravenna, OH
Aidan Anastario of Stirling, N
Jacob Knaub of Baro, PA
The Ike Foundation® lost an original member of its team this year. Brenda Butenewicz shared in the vision of engaging underprivileged youth in the sport of fishing and being in the outdoors. Butenewicz was a biology teacher and passionate photographer, taking many pictures at early Ike Foundation® events. The Ike Foundation® has created The Purple Memorial Scholarship in honor of Brenda Butenwicz and her passion for biology, the outdoors and photography.
The recipient of the Purple Memorial Scholarship is Alyssa Neumann.
Changes to 2020 The Ike Foundation® Events:
The nation's COVID-19 health crisis has changed the landscape of public events, but The Ike Foundation® is committed to its mission by remaining flexible and adjusting to the current conditions.
Assuming the Maryland waterways are open for tournament fishing, The Ike Foundation® will host the fifth annual Ike's Celebrity Pro-Am Tournament on June 20th from 7:00 am to 3:00 pm at Anchor Marina in Northeast Maryland. There have been several changes to the tournament this year to ensure the safety of all participants. Unfortunately, there will not be a Family Fun Fest this year and professional anglers will not be participating because of shifting pro circuit tournament schedules. Two-person amateur boats can enter the tournament for just $300. The first-place winner of the boat division will receive a brand new BassCat boat and Yamaha motor with additional cash and prizes awarded to follow up winners. Register for the 5th annual Ike's Celebrity Pro-Am.
The Ike Foundation® will again partner with the Fish Donkey app for another 'Fish Against Ike' Virtual Fishing Tournament this summer, exact date to be determined. The April event was a tremendous success. Proceeds resulted in donations of $7,500 to the Food Bank of South Jersey and the Family Success Center of West Jersey to assist families impacted by the COVID-19 health crisis. Please check the Ike Foundation® website and social media accounts for 'Fish Against Ike' Virtual Tournament updates in the coming weeks.
Ike's Casino Night in The City will be rescheduled to a later date.
Ike's Kayak Bass Tournament has undergone some changes for 2020 as well. The kayak division will be held at Lake Hopatcong, NJ on September 26th. Prizes will be awarded to the top five place winners. Register for Ike's Kayak Bass Tournament.
Follow The Ike Foundation on Facebook @theikefoundation, Instagram @theikefoundation & Twitter @foundationike
The Ike Foundation® appreciates the generous donations from individuals and sponsors, including Toyota, Abu Garcia, Bass Cat Boats, Hobie, Yamaha, Flambeau, Rapala and many, many more. See a full list of sponsors.