July 6, 2020, Pittsgrove, NJ. The Ike Foundation® hosted its 5th Annual Ike's Celebrity Pro Am Bass Tournament on the Chesapeake Bay in Northeast Maryland. The event moved from the Camden, NJ Riverfront this year and was held without the Family Fun Fest due to the current COVID-19 safety measures. Even with these changes in place, anglers from all over the region came out to support The Ike Foundation®. 133 boats registered and launched from Anchor Marina at 6am on Saturday, June 20th. With masks and social distancing in the forefront of everyone's mind, the day was an astounding success. The top five winners all had bags of over 21lbs. Tom and John Knee, a father-son duo from Newtown Square, PA, had the winning bag of 24.48 lbs and took home a brand new BassCat boat with a Yamaha motor as well as lots of other prizes, generously donated by sponsors of The Ike Foundation®. Those sponsors include Flambeau, Abu Garcia, Mystery Tackle Box, Spike-It, RS Nets, The Bass University, Lowrance, Rod Warrior, RAM Mounts, Tackle Warehouse, Gerber Gear, TH Marine, Power-Pole and Rapala.
Ike Foundation® Celebrity Pro Am Bass Tournament Winners and Weights: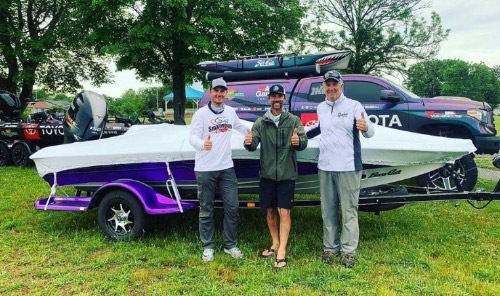 Tom Knee/John Knee - 24.48
Douglas Reed/Hayden Reed - 22.43 with the tie breaking lunker of 5.45lbs
Bryan Schmitt/Brooks Parker-22.43
Ernie Freeman/Jeff Adams-21.46
Dan Rodriguez/Eric McNulty-21.24
Lunker-Jackson Staib/David Andrews - 6.20
Ike's Online Fishing Tournament
The nation's COVID-19 health crisis has changed the landscape of public events, but The Ike Foundation® is committed to its mission by remaining flexible and adjusting to the current conditions. Fishing is, by nature, a socially distant sport. With that in mind, The Ike Foundation® is again partnering with the Fish Donkey app for Ike's Online Fishing Tournament. This app based, virtual fishing event started July 1st and will run through July 31st. Anglers from across the country can fish from the banks, from a boat, in a river or lake. There is a Northern and Southern division and bi-monthly prizes will be awarded for the biggest bass and stringer of three bass winners. A $20 donation registers you for the tournament and all proceeds support the mission of The Ike Foundation® and put rods and reels into the hands of kids across the country. Please go to https://www.fishdonkey.com/ike for more details and to register for this event.
Ike's Celebrity Pro Am Kayak Bass Tournament
The kayak portion of Ike's Celebrity Pro Am will be held at Lake Hopatcong, NJ on September 26th. Prizes will be awarded to the top five place winners. Registration is $125 per kayak with 75% of the proceeds going to The Ike Foundation® and 25% awarded to the first-place winner. More information and registration can be found at https://theikefoundation.org/upcoming-events/ikes-kayak-tournament-2020/
Donations to and from The Ike Foundation® can be made at https://theikefoundation.org/
The Ike Foundation® appreciates the generous donations from individuals and sponsors, including Toyota, Abu Garcia, Bass Cat Boats, Hobie, Yamaha, Flambeau, Rapala and many, many more. A full list of sponsors is found at https://theikefoundation.org/sponsors.