Pittsgrove NJ, Nov. 5, 2020. Professional Edge Fishing, Inc., a brand and angler marketing and representation company, announces a new partnership between Professional Angler Mike Iaconelli and Heshi`, online designer and retailer of men's socks.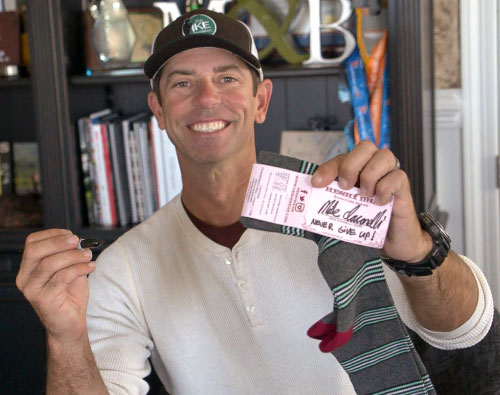 Iaconelli has always been a fashion-conscious angler with a style all his own and Heshi` is excited about this pairing. "Heshi` socks are designed for those who work hard and play hard. We couldn't think of an athlete/partner who meets that lifestyle goal more than Mike. Heshi` is thrilled to provide maximum comfort & quality to Mike and his fans so that they can take all the steps needed to 'catch' their dreams.", says Jeffrey Greenberg, Heshi` Founder.
Together with Iaconelli, the sock makers have designed the Mike Iaconelli Collection. These socks are comfortable, well designed, attractive and affordable. In addition to his designed collection, is the exclusive Ike Foundation® sock. The sock colors represent those of The Ike Foundation® and his bass fishing tournament jersey, while the stripes represent his greatest wins in life: seven B.A.S.S titles and his four children. A limited supply of 250 pairs of socks, signed by Iaconelli, are available for a donation of $50. 100% of the proceeds from this collection will go to the Ike Foundation®, Iaconelli's charity that raises money to get more kids fishing and in the outdoors. These socks make an amazing holiday gift! Shop Heshi` DNA Signature Series Ike Socks
Browse the entire Mike Iaconelli Collection and enjoy 20% off with Promo Code Ike20 (excludes The Ike Foundation® sock).
ABOUT MIKE IACONELLI
Visit Mike Iaconelli's website, or follow him on Facebook, Twitter & Instagram.
ABOUT PROFESSIONAL EDGE FISHING:
For more information, visit Professional Edge Fishing, contact Charles Daugherty at charles@professionaledgefishing.com. You can also follow Professional Edge Fishing on Facebook.
Professional Edge Fishing, Inc. is a New Jersey based, full-service angler management, representation, and marketing company specializing in the outdoor sportfishing market. Professional Edge Fishing represents several of the top anglers in the fishing industry, which include MLF Bass Tour Pros Mike Iaconelli, Ish Monroe and Zack Birge; Bassmaster Elite Series Anglers, John Crews, Garrett Paquette and Carl Jocumsen, professional kayak videographer, Robert Field and professional kayaker Kristine Fischer as well as the Ike LIVE and Stray Casts podcasts.
THE IKE FOUNDATION®
Follow The Ike Foundation on Facebook @theikefoundation, Instagram @theikefoundation & Twitter @foundationike
The Mission of The Ike Foundation® is to get more kids fishing and in the outdoors, especially youth in areas where those activities are not readily available. We support youth fishing clubs, civic groups and charitable organizations that promote the sport of fishing, the ecology of the outdoors and the responsibility each person has to maintain our planet's natural resources. Learn more at The Ike Foundation