Pittsgrove NJ, January 27, 2021. Professional Edge Fishing, Inc., a brand and angler marketing and representation company, announces a new partnership with B.A.S.S. Angler Matt Robertson, a 34-year-old fisherman from Central City, KY.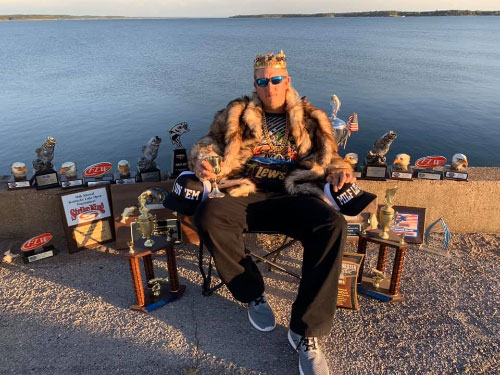 Robertson and his brand 'ON'EM' have been just that throughout much of 2020. After winning the 2020 Bassmaster Eastern Open at Cherokee Lake, Kentucky's own Matthew Robertson will be competing in the 2021 Bassmaster Classic at Lake Ray Roberts, Texas as well as fishing the 2021 Bassmaster Elite Series.
Robertson describes himself as a "down to earth, working class guy who just loves to fish" and says he's "grateful that partnering with Professional Edge Fishing, Inc. allows him to plan for his Elite series run while they take care of the business side of things".
Outkast Tackle will be sponsoring Matt Robertson in the exclusive categories of jigs, jig heads and their Slix Rod Covers, available at most outdoor retailers. "We work as a family here at Outkast and we work hard to get the baits that our guys need. Matt, as a ledge/TN river rat, is going to bring a new angle to our jig lineup. Matt's down to earth personality fits in perfect here and we all know he is one hell of a fisherman!" Connor Summers VP at Outkast Tackle.
This busy angler is also newly sponsored by brick-and-mortar tackle retailer,44 Tackle of Inverness, FL who is working with Robertson on the expansion of their online presence in 2021. "I met Matt while fishing the Bassmaster Opens together. We were looking to partner with someone who shares the same core values as we do - Matt was the perfect guy for the job. At 44 Tackle Co. we believe in teaching and sharing the sport of fishing, not just selling products. Matt will highlight that by sharing his knowledge to support our personalized customer experience, while showcasing that all orders $35 or more ship for free. " Chris Kingree, Owner of 44 Tackle Co.
"Matt is a down to earth, hard-working dude with enthusiasm for the sport of bass fishing. He understands the business side of this industry and engages with everyone he comes in contact with. We are looking forward to a long partnership with Matt, as he helps us grow our brand and online presence at 44 Tackle Co.!" Hunter Bland, Marketing and Pro-Staff Manager - 44 Tackle Co. Exciting opportunities await this angler in 2021! Robertson says he 'appreciates the support from Pro Edge and the sponsors that have stepped up to help this working-class guy chase his dream!" Additional sponsors include Renegade Marine, Berkley, Abu Garcia, Ugly Stik, and Powerpole.
You can learn more about Matt Robertson and ON'EM Fishing at
onemfishing.com
and follow him on
Facebook @MattRobertsonON'EM
, on
Instagram @onem_fishing
Sponsorship opportunities with Professional Edge Fishing, Inc. anglers and companies should be directed to Charles Daugherty, Director of Business Development, at
.