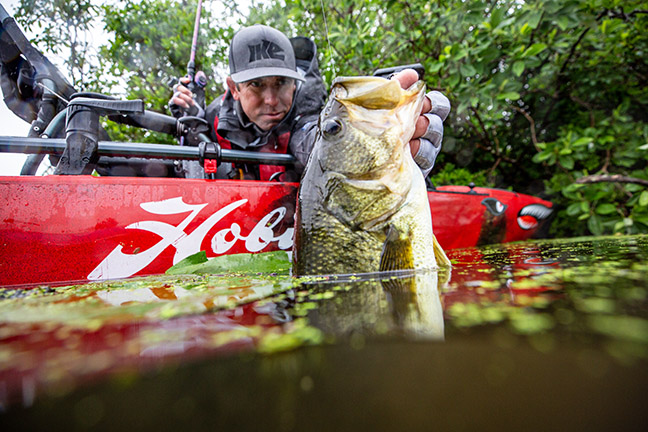 OCEANSIDE, Calif. (December 21, 2021) - There's been a lot of chatter over the past few years about kayak bass fishing, especially as it pertains to tournament fishing. No doubt, a ton of anglers are giving the sport and tournament trails a try. That growing number now includes bass fishing superstar Mike Iaconelli, the only angler to have won the Bassmaster Classic, Bassmaster Angler of the Year and B.A.S.S. National Championship on the big boat circuits. We caught up with "Ike" recently and asked him to reveal his thoughts on kayak bass fishing in general, how his Hobie Mirage Pro Angler 14 360 Mike Iaconelli Edition kayak gives him a competitive edge, and some tips on improving one's bass scores, whether fishing for fun or a spot atop the leaderboard. Here's what he had to say.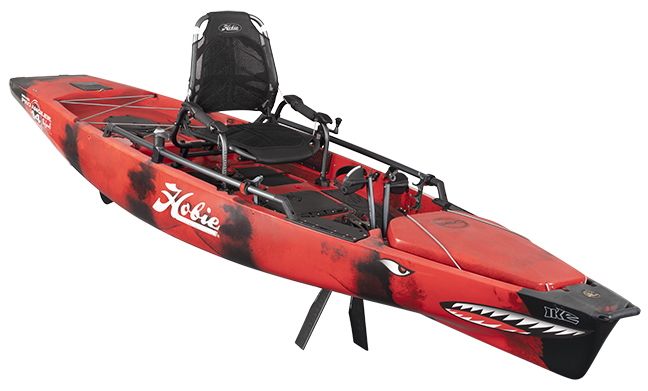 Ike, you've been so successful on the big boat stage, so what is it about kayak bass fishing that's caught your fancy?
"Well, for starters, kayak fishing brings me back to my roots. As a kid, I mostly fished from the bank, canoes and johnboats, so this really takes me back to that simpler time. When you break out the big boat, sometimes all the technology, the size and speed of your craft, and the tons of gear you bring along can make you feel removed from the fish. Kayak fishing levels the playing field, so to speak. It's just you against the bass and nothing else matters. I find that to be something special.
"From a practical standpoint, simple access is another reason I love kayak fishing. To launch a big boat in a smaller body of water is a problem if there's no ramp, and then you've got to get gas and fish with plenty of water under your keel even if you know there's better action far back in the shallows. With a kayak, you load it on the roof of your car or into the bed of your truck and drop in anyplace you want. I like that a lot."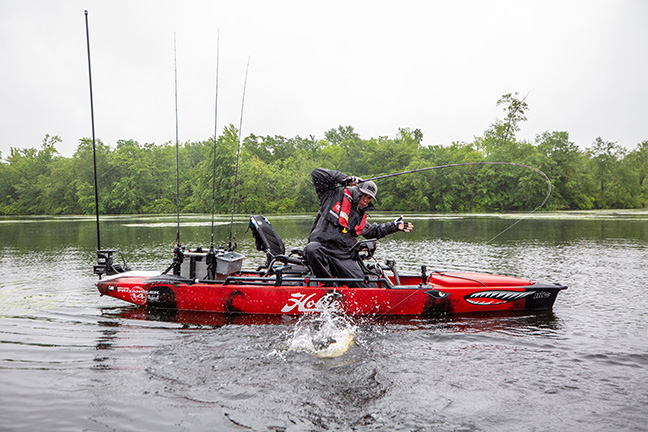 Can you tell us a little bit about the new Hobie Mirage Pro Angler 14 360 Mike Iaconelli Edition kayak that was released at ICAST?
"I'm thrilled with how Hobie's new "Ike" model turned out, and I really appreciate that Hobie asked for my input in designing something special. Hobie is the world leader when it comes to kayak technology, and their tech has changed the way I kayak fish over the years. With their patented MirageDrive 360 propulsion system, Kick-Up Turbo Fins and super-stable platforms, I can maneuver, steer, run shallow, run deep and position my kayak perfectly for every cast even in strong wind or current – and I can do it all hands free. The PA 14 360 base platform is simply the best I've ever been in.
"In terms of features, the "Ike" is a Hobie Mirage Pro Angler 14 360 – the winner of best product at the 2019 ICAST show – with an added splash of personality that really sets it apart. It has a smoking-hot firecracker-red-over-black camouflage finish that aligns with my own brand coloring, incorporates Hobie's one-of-a-kind patented 360 Mirage drive technology so you can pedal in any direction, and sports Kick-Up fins that fold out of the way when contacting underwater obstacles like rocks or tree stumps.
"It also sports sharp-looking custom-molded IKE graphics on the sides of the hull, my signature on the stern, and a set of easily applied shark face decals like I have on my tournament bass boat. It has a super-comfortable elevated and adjustable Vantage Seating system with BOA lumbar support, a spacious deck with horizontal rod storage and pivoting tackle management, a 600-lb. capacity, and plenty of H-Rail for mounting accessories like rod holders, cameras, electronics and more. Unique EVA grip pads with IKE logos provide sure footing and extra comfort when standing on deck. There are front and center hatches, a Guardian retractable transducer shield and fish finder installation system, cart scupper holes for transport, and bungee tie downs fore and aft. The IKE is also configured to easily accept a Power-Pole® Micro anchor system. The basic model sells for $5,799, but even if you add all the bells and whistles for serious competition, you can fully rig it out for well under $10,000. To find a Hobie authorized dealer close to home, check out the dealer locator at www.hobie.com."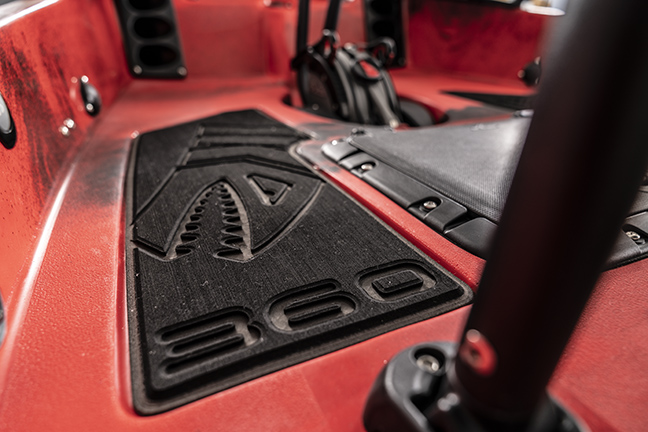 Is there a particular type of water where the Hobie IKE really excels?
"It's good anywhere; big water, small water, open water, back waters, even rivers and streams. On larger lakes and river systems, the stability really helps when the wind kicks up and the water gets a little nautical. I'll push it wherever I have to go to get the fish, and I'll use that MirageDrive pedal system to hold my position while casting in a hawkish wind.
"That said, you just can't beat this vessel in places that have current. I grew up trout fishing on the tidal Delaware River, so I really enjoy working eddies and seams. I love how the fish set up in those places and my Hobie is an amazing tool for working them properly because it lets you easily tweak and hold your position. Going back to the idea of simple access, some of the best waters on small streams and rivers are hard to reach with a bigger boat, but they pose few problems in my Hobie. Once you get out there, the MirageDrive 360 system is just a huge advantage because you can use it to stay indefinitely on the best edges, seams and breaks.
"The Hobie Kick-Up fins also make this kayak unbeatable for stream and river fishing. There are times when you get into an uncontrolled situation – like when going downstream or fighting a big fish – and get off kilter. If you end up smashing into a submerged rock, log or something, those fins simply kick out of the way and then pop back in place. You can also simply pull your drive out and then click it back in and be ready to go."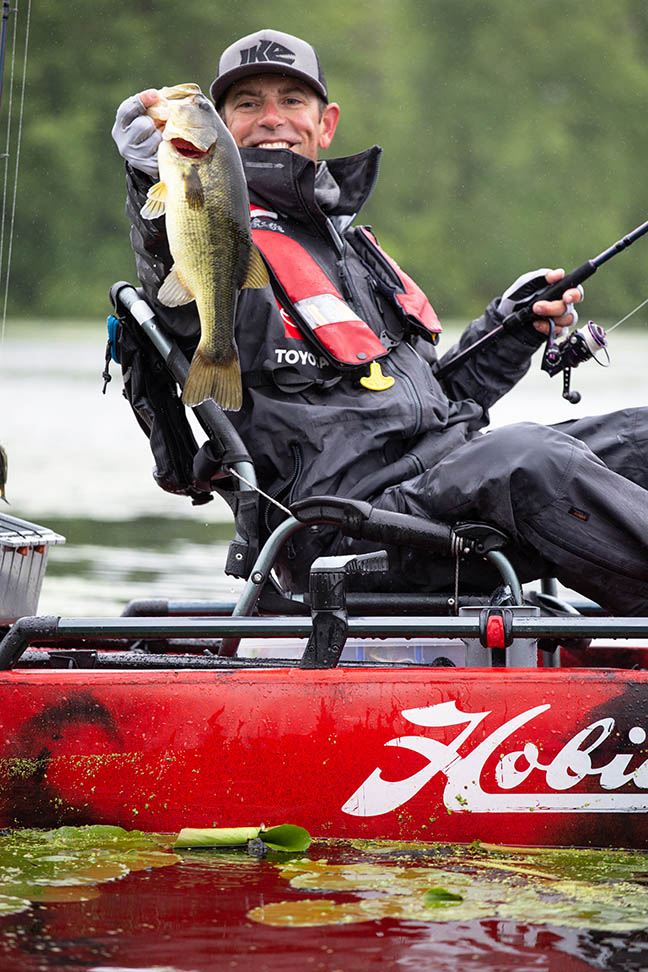 How do you like to approach current situations when bass fishing?
"For bass, or any other fish that live in a current situation, everything revolves around that moving water. It provides food, so you have to learn how the fish position themselves in the seams, breaks and eddies. In general, bass like to be in areas of less current but with quick access to stronger current. That's the epic break or seam better anglers are always talking about. I want to cast up-current to let my bait come back naturally in or around those seams. In low flow, the fish favor the fast side of the break and in high flow, they hold more on the slow side of the seam, but there are also days you'll find them right in the middle so always keep searching and probing. With my Hobie, I can stay in place and work these seams right, go shallow if I need too, and make any adjustments necessary with my hands free. That's a big advantage anytime you have to deal with current, wind, or both at the same time."
What are your thoughts on kayak bass fishing tournaments?
"Kayak fishing is the fastest growing segment of sportfishing right now, and kayak tournament fishing is the fastest growing segment of tournament fishing, so the future looks bright. As people learn how easy kayak fishing is to access, the sport is going to keep growing and anglers are going to want to quench their competitive thirst. I see the sport going mainstream already.
"Last August I won my first kayak bass fishing tournament at an Upper Chesapeake Bay event and was besieged by more media interviews than I've had in a long time. The top kayak bassing events are getting significant coverage now and you can really see the media grabbing hold of this sport and getting the word out. There's a lot of excitement around these events now.
"The technology, the apps that allow us to track our catches, it's all getting better, and the sport is going mainstream. Right now, there are three gold standards in terms of kayak fishing tournaments, the Hobie Bass Open Series (B.O.S.), the Bassmaster Kayak Trail, and Kayak Bass Fishing (KBF) series. They are the biggest, most prestigious events and provide the toughest competition. You'll see the same professional kayak anglers showing up at all three because we want to compete against the best. I fish all three.
"I like the Hobie BOS a lot. I think it's a great trail and exceptionally competitive. In fact, I've yet to win one. So that's a goal for me this year. I want to win a Hobie B.O.S. and I want to qualify for the Hobie Tournament of Champions (T.O.C.), so I've got some unfinished business over there."
Any thoughts on kayak bass fishing you'd like to add?
"I could go on all day, but there are two that immediately come to mind. One is that today's kayaks, Hobies especially, are so stable, dependable and well-built that anglers might want to think about extending their fishing season. Everybody keys on the spring, and summer fishing is a given, but you'd be amazed at how light the pressure can be as we move deeper into the fall. With colder weather settling in, this is actually one of the best times of the year to go fishing.
"For fall fishing, the words that click in my mind are 'bait, bait and bait! Bass specifically start gearing toward baitfish like shad, alewives, smelt, minnows and shiners as water temperatures begin to drop, so I mainly throw lures that imitate the predominate baitfish at that time of year. I tend to go with a small, size 8, Rapala Skitter V topwater, 3/8 or ½ ounce Molix Water Slash Double-Willow spinnerbait to imitate a small school of baitfish, and a Rapala DT4, DT6 or new DT8 in shad or baitfish colors because it gets down fast and is the perfect size to match the fall hatch. With the DT series, I try to ricochet my crankbait off rocks, logs and stuff. Bounce it off those kind of targets and you'll trigger more strikes.
"Lastly, keep in mind that kayak fishing isn't just for adults. It's a great way to get kids on the water, too. Most kayak companies have smaller models designed just for that. It's a very safe sport – we always wear a life vest – what a great way to introduce kids to fishing. My wife, Becky, and I run the IKE foundation, which is set up to further that cause. Visit theikefoundation.org if you'd like more info on that endeavor."
About Hobie
Since 1950, Hobie has been in the business of shaping a unique lifestyle based around fun, water and quality products. From their headquarters in Oceanside, California, Hobie Cat Company manufactures, distributes and markets an impressive collection of watercraft worldwide. These include an ever-expanding line of recreation and racing sailboats, pedal-driven and paddle sit-on-top recreation and fishing kayaks, inflatable kayaks and fishing boats, plus a complementary array of parts and accessories.