Pittsgrove NJ, January 11 , 2022. "Pushing Power to its limits on my boats has always been a priority. With a combination of lithium and AGM battery technologies from Pro-Guide, I will be able to maintain full power throughout the day on various power sources from my Yamaha motor to my Ghost trolling motor, Lowrance units, all my electronics, lights, pumps and other accessories! I'm looking forward to running the ultimate, foolproof battery system from Pro Guide!"
Mike Iaconelli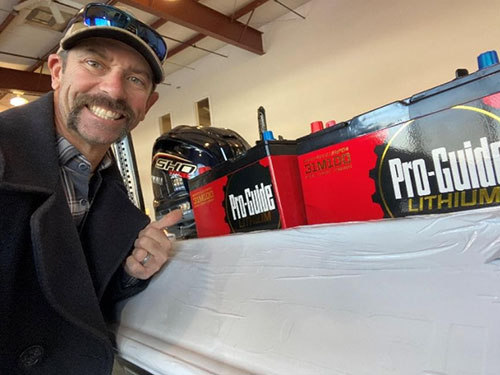 Iaconelli brings new power and a new partner into the 2022 season with the addition of Pro-Guide Batteries. These marine grade lithium and AGM batteries will provide Iaconelli's entire Bass Cat tournament rig and kayak with unparalleled power and reliability.
"Pro-Guide Batteries is extremely excited for the opportunity to partner with Mike for the upcoming year. The combination of Mike's reach and his style of fishing will push our products to the limit, giving the industry a true picture of what Pro-Guide Batteries are capable of in the harshest environment! We look forward to seeing Mike compete this year in the Elite Series, as well as help us with future Product Development to continue bringing the best products to the market." Pate R Shumaker, Battery Outfitters Inc.
The 2022 Bassmaster Elite Series calendar is a busy one that kicks off back-to-back events in sunny Florida and wraps up in Wisconsin in August. The Bassmaster Classic returns to Lake Hartwell in Greenville, South Carolina, March 4-6th.
2022 Bassmaster Elite Series Schedule:
Feb. 10-13, St. Johns River, Palatka, Fla.
Feb. 17-20, Harris Chain of Lakes, Leesburg, Fla.
March 4-6, Academy Sports + Outdoors Bassmaster Classic presented by Huk, Lake Hartwell, Greenville, S.C.
March 17-20, Santee Cooper Lakes, Clarendon County, S.C.
April 7-10, Chickamauga Lake, Dayton, Tenn.
May 19-22, Lake Fork, Quitman, Texas
June 2-5, Pickwick Lake, Counce, Tennessee
July 14-17, St. Lawrence River/1000 Islands, Clayton, N.Y.
Aug. 4-7, Make-up date
Aug. 18-21, Lake Oahe, Mobridge, S.D.
Aug. 26-29, Mississippi River, La Crosse, Wis.
Iaconelli's sponsors include AFTCO, Toyota, Bass Cat, Yamaha, Molix, Abu Garcia, Berkley, Lowrance, Power-Pole, Rapala, Tackle Warehouse, Flambeau, Hobie, Nines, Pro Guide Batteries, Panther Vision, Missile, Spike-It and Cardinal/Forest River.
Sponsorship opportunities with Professional Edge Fishing, Inc. anglers and companies should be directed to Charles Daugherty, Director of Business Development, at