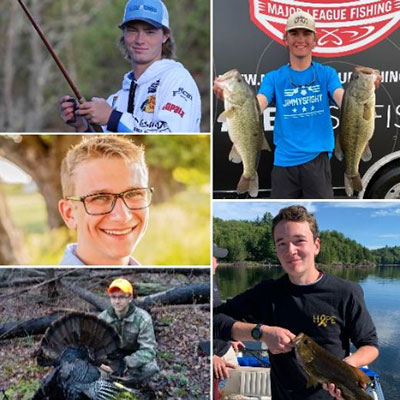 May 25, 2022, Pittsgrove, NJ. The 2022 Ike Foundation® Scholarship Winners Have Been Announced! High school seniors from across the country with an earned GPA of at least 3.0 and a proven contribution to outdoor conservation submitted applications for The Ike Foundation® Scholarship. Students were required to submit letters of recommendation, high school transcript, college acceptance letter and an essay that answered the following question:
Using examples from your own experience, evaluate how modern technology has impacted the sport of fishing. Simultaneously compare the difference between how you fish today and how the person who taught you how to fish fished in their day. Clearly demonstrate how the impact of technology can be both positive and negative.
This year's applicant pool was a competitive one. Trustees conducted a blind review of all applications and essays and scored submissions based on a pre-defined point system. Each winner will be receiving a $2,000 Ike Foundation® College Scholarship to the college of their choice. The five winners and their intended college major are listed below.
Caleb Brunnert - Computer Engineering - Maryville, Missouri
Zachary Mosier - Mechanical Engineering - Kersey, Pennsylvania
Liam Anderson - Environmental Sciences or Wildlife/Conservation Biology - Lebanon, New Jersey
Mitchell Straffon - Mass Communication/Marketing - Fenton, Michigan
Jacob Panichi - Marketing and Business Management - Cook, Minnesota
In addition to awarding college scholarships, The Ike Foundation® has been busy with the newly formed Youth Tournament Trail. This series has been on the minds and hearts of Mike and Becky Iaconelli for many years. The first of three events was held at Lenape Lake in Mays Landing, NJ on Saturday, May 21st.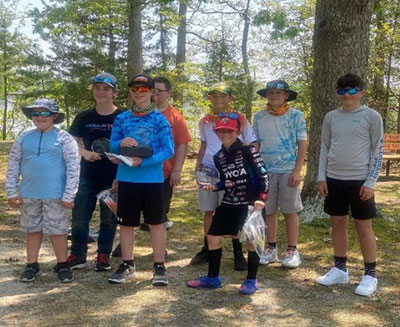 Fourteen kids and teens fished with vetted volunteer boat captains for an amazing first event. Winners of each division are:
Youth Division:
Max Hughen
Josh Carsten
Vegas Iaconelli
Pickerel- Vegas Iaconelli
High School Division
Braden Straffieri
Connor Hivish
Pickerel - Nate Charlesworth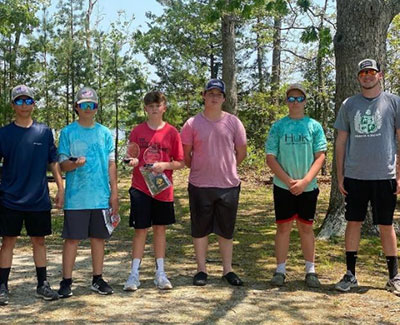 The two additional Youth Fishing Tournament Trail Dates are below and there are spots available for anglers and volunteers:
July 12, 2022-Lums Pond, Bear, DE
September 17, 2022-Union Lake, Millville, NJ
It is the hope of The Ike Foundation® that as participation grows, the tournaments will expand past the New Jersey/Delaware region. Youth anglers and boat captains can learn more about The Ike Foundation® Youth Fishing Tournament Trail and register here https://theikefoundation.org/youth-tournament-trail/.
Special thanks goes to local South Jersey Walmart stores that donated fishing supplies for this event and future kids events hosted by The Ike Foundation®
Upcoming 2022 Ike Foundation® Fundraising and Kids Events:
7th Annual Ike's Pro Am Boat Tournament- Sunday, June 5th
6th Annual Ike's Kayak Bass Tournament- Sunday, October 2nd
Summer and Fall (dates TBD)-Ike's Hook'Em Early Kids Fishing Events

This is a fun filled kids fishing tournament held at a local lake.
Prizes will be awarded to the winners.
Registration will be required.

5th Annual Scholarship Dinner-Friday, January 27th, 2023

Adult only event at The Grove at Centerton, Centerton, NJ
Basket Auction, 50/50
All proceeds go to the Ike Foundation® Scholarship Fund
More details will be posted to https://theikefoundation.org/ in the coming months.
Please follow The Ike Foundation on Facebook @theikefoundation & Twitter @foundationike
The Ike Foundation® appreciates the generous donations from individuals and sponsors, including Toyota, Abu Garcia, Bass Cat Boats, AFTCO, Hobie, Yamaha, Tackle Warehouse, Power-Pole, Flambeau, Rapala, Missile, Spike It, and many, many more. A full list of sponsors is found at https://theikefoundation.org/sponsors/
Founded in 2014 by professional bass angler Michael Iaconelli and his wife, Becky. The Mission of The Ike Foundation® is to get more kids fishing and in the outdoors, especially youth in areas where those activities are not readily available. We support youth fishing clubs, civic groups and charitable organizations that promote the sport of fishing, the ecology of the outdoors and the responsibility each person has to maintain our planet's natural resources. The Ike Foundation® is approved by the IRS as a 501©(3) tax-exempt organization, and all donations are tax deductible to the extent provided by law. The Ike Foundation® is a non-profit organization and all proceeds from events go to The Ike Foundation's mission. Tax-deductible contributions are welcome and can be made on the website via credit card.