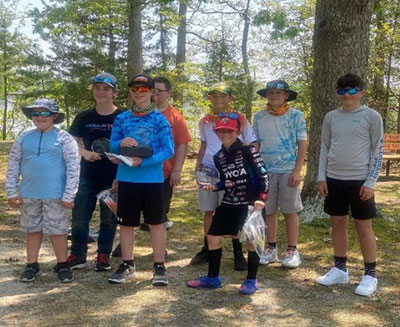 Sept 13th, 2022- The mission of The Ike Foundation® is to get kids fishing and in the outdoors, especially those who have not had the opportunity to do so. Ike's Youth Fishing Tournament Trail was created to expand that mission with the introduction of fishing from a bass boat. The inaugural event was held on Lenape Lake, Hamilton Township, NJ and the second event took place on Lums Pond, Bear, DE. Young anglers, ages 8-18 (18 and a high school student) of all skill levels participated. They either fished from their own boat or were paired with a volunteer boat and captain from local bass clubs. The Ike Foundation® has partnered with Walmart to equip qualified participants with a rod and reel and the tackle they need to compete for the day. Prizes are awarded to the top three youth anglers at each event.
The final tournament will be held at Union Lake, Millville, NJ on Sept 18th . Youth anglers and boat captains can learn more about The Ike Foundation® Youth Fishing Tournament Trail and register at https://theikefoundation.org/youth-tournament-trail/.
It is the goal of The Ike Foundation® that as participation grows, the tournaments will expand past the New Jersey/Delaware region.
Upcoming 2022 Ike Foundation® Fundraising and Kids Events:
Ike's Hook'Em Early Kids Fishing Event-Saturday, Oct. 1
6th Annual Ike's Kayak Bass Tournament Sponsored by The Dugout Bait and Tackle, Marietta, GA- Sunday, October 2nd
Ike's Hook'Em Early Kids Fishing Event-Saturday, Oct. 15

Daretown Lake, Elmer, NJ
Upper Pittsgrove School Adventure Club fundraising event
25 Upper Pittsgrove students invited to attend

5th Annual Scholarship Dinner-Friday, January 27th, 2023
Please follow The Ike Foundation on Facebook @theikefoundation & Twitter @foundationike
The Ike Foundation® appreciates the generous donations from individuals and sponsors, including Toyota, Abu Garcia, Bass Cat Boats, AFTCO, Hobie, Yamaha, Tackle Warehouse, Power-Pole, Flambeau, Rapala, Missile, Spike It, and many, many more. A full list of sponsors is found at https://theikefoundation.org/sponsors/
Founded in 2014 by professional bass angler Michael Iaconelli and his wife, Becky. The Mission of The Ike Foundation® is to get more kids fishing and in the outdoors, especially youth in areas where those activities are not readily available. We support youth fishing clubs, civic groups and charitable organizations that promote the sport of fishing, the ecology of the outdoors and the responsibility each person has to maintain our planet's natural resources. The Ike Foundation® is approved by the IRS as a 501©(3) tax-exempt organization, and all donations are tax deductible to the extent provided by law. The Ike Foundation® is a non-profit organization and all proceeds from events go to The Ike Foundation's mission. Tax-deductible contributions are welcome and can be made on the website via credit card.